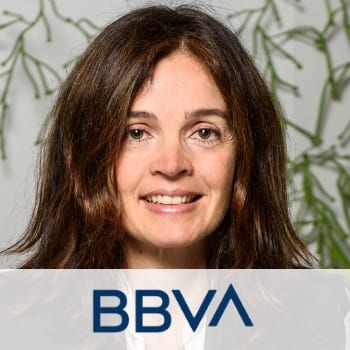 Ainhoa Campo
Global Head of Open Innovation @ BBVA
Ainhoa Campo is an expert in the areas of open innovation, fintech and digital transformation. with almost 20 years experience in banking related fields as diverse as capital markets, M&A, lending, venture creation. She has been chasing new business models for BBVA.
In the last years. She has been very focus on lending area for both individuals and SME. She is a great believer of new risk algorithms as a new paradigm for understanding companies. Now her passion is to make things happen; between fintech startups and BBVA Ainhoa has an Economic and Business Degree at the University of the Basque Country. Lately, a Digital Entrepreneurship Accelerator Program at MIT Ainhoa is currently Head of Open Innovation at BBVA.
Her mission to connect and collaborate with fintech ecosystem to bring amazing to the hands of our customers. By designing and implementing the strategies to reach out both part of the equation. BBVA and the external ecosystem (entrepreneurs, developers and the fintech ecosystem).